ARK Washroom Solutions.
ARK is a Hygiene Company that provides the full range of services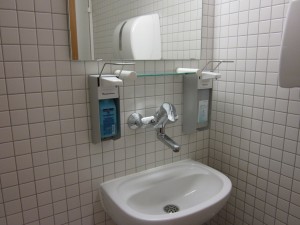 you require for the washroom in the South East. Our products and service frequencies are tailored to the individual needs of your business whilst designed to control usage and reduce maintenance. We are committed to always offering innovative products that will reduce cost without compromising on service.
Our aim is to achieve 100% customer satisfaction, through experienced management and supervision, regular training and incentive programmes. To motivate our staff and to use the best quality equipment, ensuring a cost effective service to our customers.
Adding Value to the Account:
One of the key differences between ARK and our competitors is the Liner Service we provide as opposed to the more traditional "bin for bin" exchange. Some of the core benefits to this service are listed below:
Carbon footprint is greatly reduced for Liner Service vehicles as they can service many more sanitary bins per vehicle than a bin for bin vehicle which greatly reduces the mileage travelled and consequently trips to the tip.

The cosmetic appeal of the Liner Sanitary bin is better and easier to maintain as once the bin is placed on site it stays there and is cleaned on site. The "bin for bin" units get tattered and damaged due to being constantly loaded and unloaded from the vehicles and pressure washed at the service depots.

Risk of manual handling injury is reduced as only one operative required for liner service and the process is far less labour intensive with minimum manual handling aids being required.
Free Waste Transfer Note.
We are a fully licensed registered waste carrier and can provide an annual season ticket waste transfer note completely free of charge. We will also provide free consultation and expert advice and support on maintaining the Washroom in line with current legislation.
One Call Does it All.
Unlike some of our competitors ALL issues whether they be invoicing, customer service, sales or service are dealt with by one person meaning you can make one call and trust that the matter will be dealt with quickly and efficiently by the person you speak to.
24 Hour Service Guarantee.
Should an emergency visit be required ARK will guarantee to respond within 24 hours of the call being received by our Helpdesk. We understand the importance of a quick response when dealing with public washrooms and associated public health risks.
Health & Safety
At the heart of our business are the Health, Safety and Well-Being of our customers and staff. We take health and safety very seriously and ensure that we comply with all the current legislation. You can learn more about our policies and procedures by clicking HERE
– Freephone: 0800 0279 273 –
– Local Rate: 01689 834465 –
               ✔

1 Hour Response
               ✔

Fully Accredited
               ✔

Trained Technicians
               ✔

Unrivaled Service
               ✔

DBS Checked
               ✔

 24hr Callouts